The Memphis Grizzlies have been the No. 2 seed in the Western Conference in each of the last two seasons, but generally aren't thought of as a top-two team. They've won just one playoff series in those two years, struggling offensively as they were eliminated by lower-seeded opponents.
The Grizzlies still have a young core; Ja Morant, Desmond Bane and Jaren Jackson Jr. will be 24, 25 and 24 years old, respectively, when the 2023-24 season tips off. Two of those guys have already been All-Stars, and the third (Bane) has been one of the league's best shooters over his three seasons in the league.
Of course, Morant won't be available until mid-December, because he's been suspended for the first 25 games. And the Grizzlies no longer have one of the league's best back-up point guards, having traded Tyus Jones in June.
Memphis gave up Jones (and a first round pick) to get Marcus Smart, whose presence in the locker room may be the most important thing to his new team. But the 29-year-old will also have a big effect on what happens on the floor, both offensively and defensively.
Here are some notes, numbers and film on what Smart brings to Memphis…
1. Smart on the ball
With Morant suspended, Smart should be a full-time point guard for the first 25 games. And in Memphis, he won't have wings alongside him that handle the ball as much as Jaylen Brown and Jayson Tatum did in Boston.
Smart is not a pull-up jump shooter. He attempted just 107 pull-up jumpers (2.0 per 36 minutes) last season, and his effective field goal percentage on those (41.1%) ranked 135th among 165 players with at least 100 attempts.
Tyus Jones, who the Grizzlies traded for Smart, was much more prolific (315 attempts) and effective (effective field goal percentage of 50.0%) off the dribble. In fact, he was one of only 17 players who shot better than 47% on at least 200 pull-up 2-pointers. He has also led the league in assist/turnover ratio in each of the last five seasons.
Smart can be a little careless, but he can also make some terrific passes, both in the pick and roll…
… and out of the post.
If he's more of a passer than a shooter while running the Grizzlies' offense, that's a good thing.
2. Smart off the ball
Morant will be eligible to return to the Grizzlies' lineup on Dec. 19. And we can assume that, from then on, he and Smart will play a lot of minutes together.
Over the last three seasons, Smart has shot just 33.2% from 3-point range, a mark which ranks 173rd among 195 players with at least 500 attempts over that timeframe. He's been better in the postseason (108-for-302, 35.8%), but still isn't the ideal off-the-ball complement to Morant. His 0.97 points per possession on spot-up possessions over the last three years is well below the league average (1.03), according to Synergy tracking.
Of course, being an effective player off the ball isn't just about shooting 3s. Smart can make timely cuts…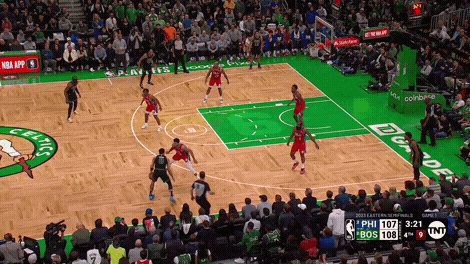 And he's a willing screener, who can make plays as a roll man…
Some Morant-Smart screening actions could be fruitful, even if their purpose is to just get a lesser defender switched onto Morant. A good portion of the Celtics' late-game offense was Smart screening for Tatum (or vice-versa) to get a switch.
3. Morant off the ball
Though he shot just 30.7% from 3-point range last season, Morant scored efficiently (1.10 points per possession) on spot-up possessions, according to Synergy. It was a small sample size (2.2 possessions per game), but it could get bigger if he plays more minutes alongside Smart than he did with Jones (397, 20% of Morant's total).
As is the case with Smart, it would help if Morant shot better from deep. But he can also be effective off the ball, and it's more about attacking seams with his quickness…
Morant ranked second with 20.3 drives per game and drew fouls on 11.8% of his drives, a rate that ranked sixth among the 46 players who averaged at least 10 per game.
The Grizzlies have more than Morant and Smart, and Desmond Bane could see another jump in usage rate in his fourth season. But even with their success in transition and on the offensive glass, it may be difficult for them to finish in the top 10 offensively, having done so just once in the last 19 seasons. That was two years ago (they ranked fourth), but they took a step backward last season and have now had a worse-than-average effective field goal percentage in 15 straight seasons (which is pretty amazing).
4. Defense
The Grizz can make up for offensive shortcomings on the other end of the floor. Smart is obviously best known for his defense, though he wasn't as good defensively last season as he was when he won Kia Defensive Player of the Year the season prior. Statistically, his deflections were down, opponents shot better than they should when he was guarding them, and the Celtics allowed fewer points per 100 possessions when he was off the floor. Anecdotally, he seemed to miss rotations, allow drive-bys and lose his man off the ball more often.
He's still a guy you'd like to have on the floor when you need a stop. His best attribute might be that he's an alert and communicative switcher, who isn't afraid to battle a big man inside…
He's also a pest on the ball when he's locked in, and he makes some spectacular plays on that end of the floor…
While Smart didn't repeat as Defensive Player of the Year, the guy who succeeded him is his new teammate. The Grizzlies have ranked in the top seven defensively in each of the last three seasons, they ranked third last year, and they allowed just 106.6 points per 100 possessions with Jaren Jackson Jr. on the floor.
Smart should help them keep that top-seven streak alive, though (at least for the first 25 games) he'll need to carry a heavier load offensively than he did in Boston. The last time that two former Defensive Players of the Year were on the same team was five years ago, when the Toronto Raptors had Kawhi Leonard and Marc Gasol.
That worked out pretty well.
* * *
John Schuhmann is a senior stats analyst for NBA.com. You can e-mail him here, find his archive here and follow him on Twitter.
The views on this page do not necessarily reflect the views of the NBA, its clubs or Warner Bros. Discovery.